Kazakhstan reigns supreme in Asian Senior Championship
Talal Alzaim (Syria) and Tolegen Nukin (Kazakhstan) triumphed in the 50+ and 65+ categories, respectively, in the Asian Seniors Chess Championship organized by the Kazakhstan Chess Federation. The event was held under the auspices of the Asian Chess Federation from 8th to 18th of September 2019 in Almaty, Kazakhstan.
Almaty hosted the Asian senior Championship for the first time: 70 chess players from 16 countries came to the largest Kazakhstan city. Local players took the entire pedestal in the 65+ category and won silver and bronze medals in the 50+ category.
Elena Ankudinova from Pavlodar won the gold in the women's section in the 50+ category for the former world champion among seniors. Nadezhda Iskichekova of Almaty took first place in the 65+ category.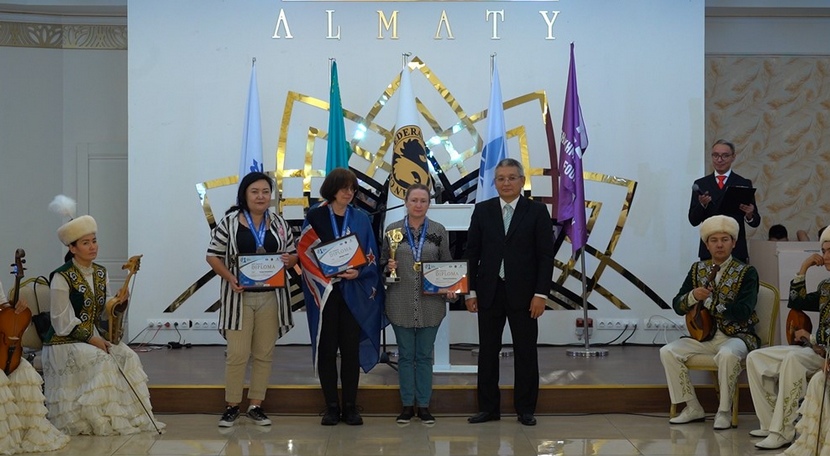 In the blitz and rapid championships, Kazakhstan swept a full set of medals. Serikbay Temirbayev took the gold in the category 50+ whereas Tolegen Nukin did the same in the 65+ category. In blitz 50+ and 65+ categories, the best results were shown by Jamshed Isaev from Tajikistan and Sabyr Syzdykov from Kazakhstan respectively.
"I would like to note the high level of organization of the championship," said the Australian participant Peter Frost, "It was one of the best tournaments of all ten Asian championships among seniors in history. We, for our part, will be happy to host Kazakhstan athletes and repay them with the same warm welcome."
Final results:
Blitz 50+
Men
1. Jamshed Isaev (TJK)
2. Aziz Umarbekov (KGZ)
3. Serikbay Temirbayev (KAZ)
Women
1. Yelena Ankudinova (KAZ)
2. Helen Milligan (NZL)
3. Nurgul Ilanbekova (KAZ)
Blitz 65+
Men
1. Sabyr Syzdykov (KAZ)
2. Sergey Sidorov (KAZ)
3. Marat Primbetov (KAZ)
Women
1. Iskichekova Nadezhda (KAZ)
2. Zinaida Yagunova (KAZ)
3. Panu Abdikasova (KAZ)
Rapid 50+
Men
1. Serikbay Temirbayev (KAZ)
2. Oleg Golovchuk (KAZ)
3. Valeriy Min (KAZ)
Women
1. Ankudinova Yelena (KAZ)
2. Milligan Helen (NZL)
3. Ilanbekova Nurgul (KAZ)
Rapid 65+
Men
1. Tolegen Nukin (KAZ)
2. Marat Primbetov (KAZ)
3. Hanif Khusainov (KAZ)
Women
1. Nadezhda Iskichekova (KAZ)
2. Zinaida Yagunova (KAZ)
3. Panu Abdikasova (KAZ)
Standard 50+
Men
1. Talal Alzaim (SYR)
2. Serikbay Temirbayev (KAZ)
3. Almaz Asanov (KAZ)
Women
1. Yelena Ankudinova (KAZ)
2. Nurgul Ilanbekova (KAZ)
3. Helen Milligan (NZL)
Standard 65+
Men
1. Tolegen Nukin (KAZ)
2. Mikhail Kashkarov (KAZ)
3. Hanif Khusainov (KAZ)
Women
1. Nadezhda Iskichekova (KAZ)
2. Panu Abdikasova (KAZ)
3. Zinaida Yagunova (KAZ)