FIDE Seminar for International Organizers in Dammam – Results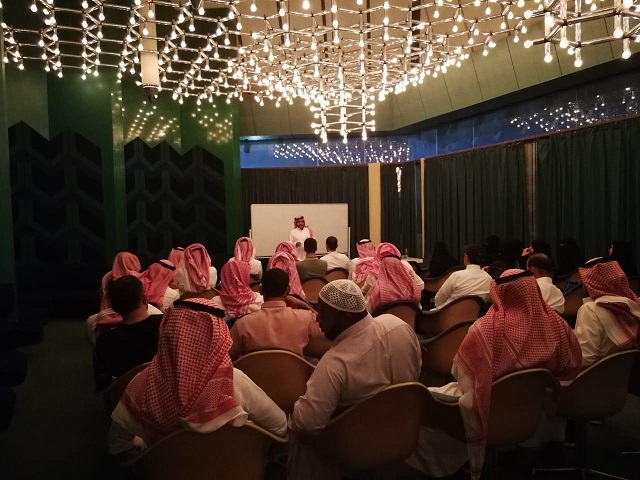 A Seminar for International Organizers was held from 11th to 15th of July at the Green Arena in Dammam, Saudi Arabia by the Saudi Chess Federation in cooperation with the Asian Chess Federation and the Leadership Institute, the EVE commission of FIDE.
The objective of the Seminar was to educate and certify Organizers on an international basis. Topics in the seminar covered the latest regulations of Events Commission (Mission, Members, Events Regulations, Bid Procedure, Ratings and Titles and Events' Management).
Many examples of previous WCC and other major FIDE events organizing procedures were examined including the organizational issues involved in the famous 1972 Fisher Spassky match.
The Lecturer of the seminar was IA Yaser Motlaq Al Otaibi (KSA), FIDE Lecturer and Assistant Lecturer was Ahmad Belali (KSA). The lecturers and the exam were in Arabic.
A total of 41 participants from 1 federations attended the seminars while out of them 34 candidates have successfully passed the examination:
| | | | | |
| --- | --- | --- | --- | --- |
| N | FIDE ID | NAME | FED | S |
| 1 | 21515972 | Qahtani, Ibtehal A | KSA | F |
| 2 | 21515816 | Al Saif, Mohammed K | KSA | M |
| 3 | 21515840 | Al shehri, Abdullah M | KSA | M |
| 4 | 21515999 | Mansour Homoud Al-Ghamdi | KSA | M |
| 5 | 21516006 | Alshehri, Mohammed A | KSA | M |
| 6 | 21504628 | Al Otaibi, Abdullah Dhawi | KSA | M |
| 7 | 21515875 | Bilali, Wael M | KSA | M |
| 8 | 21515883 | Alkhaazim azem , Nayf M | KSA | M |
| 9 | 21515727 | Alshami, Abdullah Mohammed | KSA | M |
| 10 | 21515611 | Alkyade , Moosa | KSA | M |
| 11 | 21515930 | Alsaeed, Moayad S | KSA | M |
| 12 | 21515867 | Alabbas, Mohammed M | KSA | M |
| 13 | 21515832 | Al Dawsari, Abdullah N | KSA | M |
| 14 | 21515921 | Alquohi, hisham A | KSA | M |
| 15 | 21515948 | Al Asmari, Nouf D | KSA | F |
| 16 | 21515956 | Al Asmari, Fatimah D | KSA | F |
| 17 | 21511764 | Alqarni, Ali A | KSA | M |
| 18 | 21515964 | Al Asmari, Khloud D | KSA | F |
| 19 | 21508097 | Al Sadeq, Eman Ahmed | KSA | F |
| 20 | 21515824 | Al Alyani, Mohammed | KSA | M |
| 21 | 21515905 | Alotaibi Abdulelah D | KSA | M |
| 22 | 21511101 | Alissa, Turki | KSA | M |
| 23 | 21515859 | Kabbi,Khalid I | KSA | M |
| 24 | 21502730 | Al Makhamel, Abdulwahed | KSA | M |
| 25 | 21516014 | AlShehri, Waleed | KSA | M |
| 26 | 21515719 | Alshami , Motaz | KSA | M |
| 27 | 21515891 | Alsharef, Zekra M | KSA | F |
| 28 | 21515913 | Alomar, Abdulrahman O | KSA | M |
| 29 | 21516022 | Almahwiti, Abdulkrem | KSA | M |
| 30 | 21502048 | Al Thele, Mousa B | KSA | M |
| 31 | 21500223 | Al Sadeq, Ameen | KSA | M |
| 32 | 21508070 | Al Durazi, Zainab Ali | KSA | F |
| 33 | 21501815 | Matthary, Nabil Rasheed | KSA | M |
| 34 | 21515913 | Alomar, Abdulrahman O | KSA | M |
Lecturer
Yaser Al Otaibi (KSA)