FIDE Seminar for International Organizers in Jeddah – Results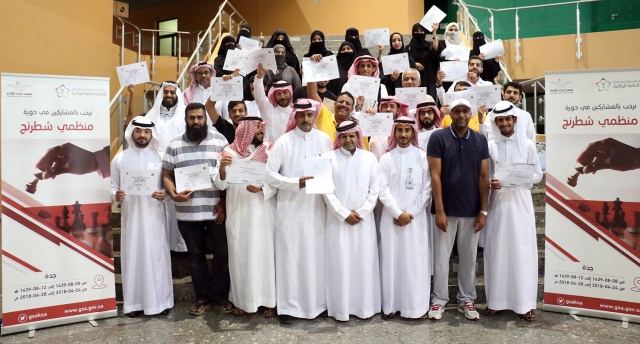 A seminar for International Organizers was held from 24th to 28th of April at The Green Arena in Jeddah, Saudi Arabia by the Saudi Chess Federation under the auspices of Asian Chess Federation and the EVE commission of FIDE.
The objective of the Seminar was to educate and certify Organizers on an international basis. Topics in the seminar covered the latest regulations of Events Commission (Mission, Members, Events Regulations, Bid Procedure, Ratings and Titles and Events' Management. Many examples of previous WCC and other major FIDE events organizing procedures were examined including the organizational issues involved in the famous 1972 Fisher Spassky match.
The FIDE Lecturer was IO, IA Yaser Al Otaibi (21500053). The lectures and the exam were in Arabic.
A total of 48 participants from 2 federations attended the seminars while out of them 38 candidates have successfully passed the examination:
%

S
ID
FED
NAME

В В 

N

%100

M
21502315
KSA
Sulimani, Yaser
1

100

%
F
21510288
KSA
Alhassan, Aljowhrah
2

99

%
F
21511217
KSA
Alsemairi, Dalia
3

99

%
M
21513970
KSA
Al Mudhish, Mohammed A
4

99

%
F
21512132
KSA
Almetere, Sara
5

98

%
F
21514186В 
KSA
Al Harbi, Atheer S
6

97

%
M
21514119
KSA
Khan,Shawkat A
7

97

%
M
21514062
KSA
Al Bishi,Badawi N
8

97

%
F
21512329
KSA
Ishaq, Alanoud
9

96

%
F
21514011
KSA
Al Harbi, Amal A
10

96

%
M
21508267
KSA
Belali , Ahmad M
11

95

%
M
21514208В 
KSA
Al Harthi, Thamer S
12

95

%
M
21501130
KSA
Al Osaimi, Adil A
13

94

%
F
21513996
KSA
Al Ghamdi,Hanan O
14

94

%
F
21512108
KSA
Alzbiday, Nawal
15

94

%
M
21500460
KSA
khayat, Abdullah F
16

93

%
M
21514089
KSA
Al Qurashi,Maddah
17

93

%
F
21514020
KSA
Ati,shahad M
18

91

%
M
21514178
KSA
Al Qasimi,Faris M
19

91

%
F
21514038
KSA
Al Nomani,Safa H
20

91

%
F
21514003
KSA
Abdelrahim,Kayreay A
21

91

%
M
21504512
KSA
Al Zhrani, Fareed R
22

90

%
F
8113106
JOR

Hanan Abusalimeh

23

89

%
M
21500371
KSA
Al Habeeb, Saad M
24

87

%
M
21514127
KSA
Bates,Balkhair A
25

87

%
M
21503486
KSA
Al Sharif, Fawaz
26

86

%
M
21502277
KSA
Bukhari, Mohammed
27

86

%
M
21514135
KSA
Al Otaibi,Abdulaziz M
28

86

%
M
21514100
KSA
Al Zhrani,Walid A
29

85

%
M
21514097
KSA
Al Hathali,Saif H
30

85

%
M
21514054
KSA
Farhan,Nait H
31

83

%
M
21514160
KSA
Al Nasri,Thamer A
32

83

%
M
21514070
KSA
Hakami,Mohammad
33

82

%
M
21514046
KSA
Al Aaroui,Yusuf M
34

81

%
M
21514151
KSA
Al Mutairi,Turki N
35

81

%
M
21514143
KSA
Al Ghamdi,Faisal S
37

80

%
F
21514194В 
KSA
Al Zahrani, Amal A
38